1920's Egyptian Revival
Silk Jacquard Tapestry Wall Hanging!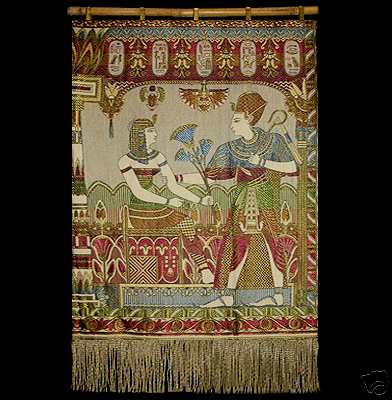 trimmed with twisted silk fringe!
36" long X 22" wide,
including the 5.5" matching Silk fringe!
The tapestry or hanging is a warm medium ecru linen woven through with silk floss in jewel tones of Ruby, sapphire, Jade and Amber,
to form the beautiful exotic pattern with stylized Pharaoh offering a lotus blossom to his Queen with wonderful flying Winged Scarab overhead.
Wide double border of Hieroglyphs or Runes,
both figures wear the Sacred Crowns of Ancient Egypt. The details are Amazing on this piece, the figures have fingernails, and jewelry. The silk is so lavish it almost looks hand embroidered!
There are woven metal loops at the top for hanging, (shown here with an old piece of bamboo through it, not included)
the back is lined with caramel colored Egyptian linen, which is lightly faded, but not worn at all.
This TAPESTRY would make a
FABULOUS Decorative Element for
an Exotic Middle Eastern HAREM or
Moroccan style Decor.
The Jacquard tapestry is in very good condition.
Very slight surface wear on the silk thread, and one area of almost invisible repair (see picture), otherwise no damage, smell or soiling. Very clean. Colors are bright and unfaded!
This type of cloth was introduced to the west during
the late Victorian era 1880's, and had a resurgence of popularity
through the 1920's art deco period, after the discovery of King Tutankhamen's tomb.
from a 1920's Art Deco
Hollywood Hills Estate.
I was told this might have hung in the old Egyptian Theater in Hollywood, but I don't have any documentation to that effect.
$325.00
Purchase this item through paypal!