Incredible 1900 to Early Meji Hand Embroidered
Ivory Silk Crepe Re-tailored Uchikake Bridal Kimono Coat,
with overall Lavishly embroidered Wisteria blossoms, & abstract Water & Cloud Designs!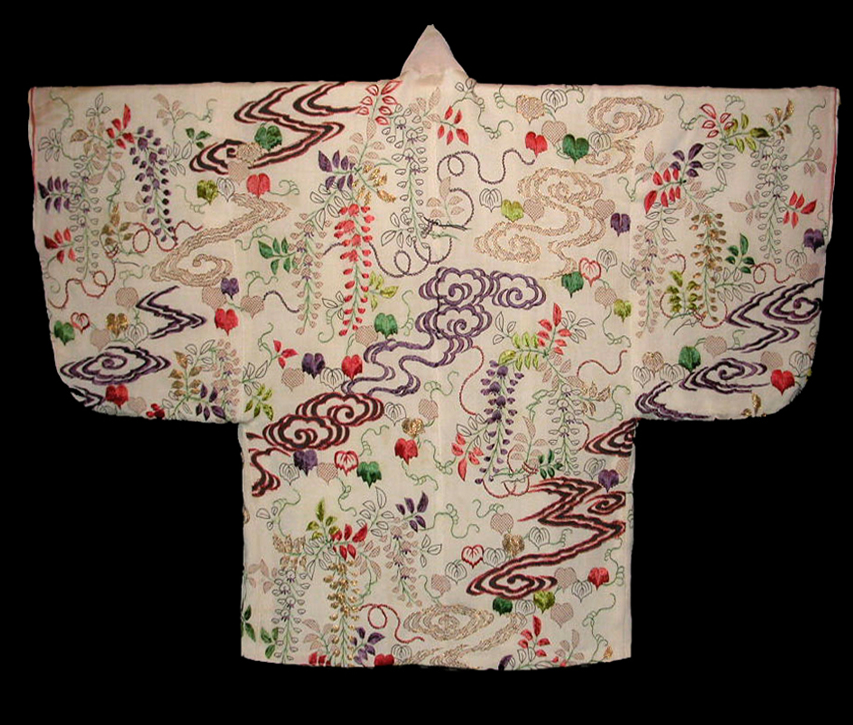 Huge Batwing Sleeves, mid-thigh length, this kimono appears to have been shortened
from the original floor length.
The Hem has been faced and hand stitched.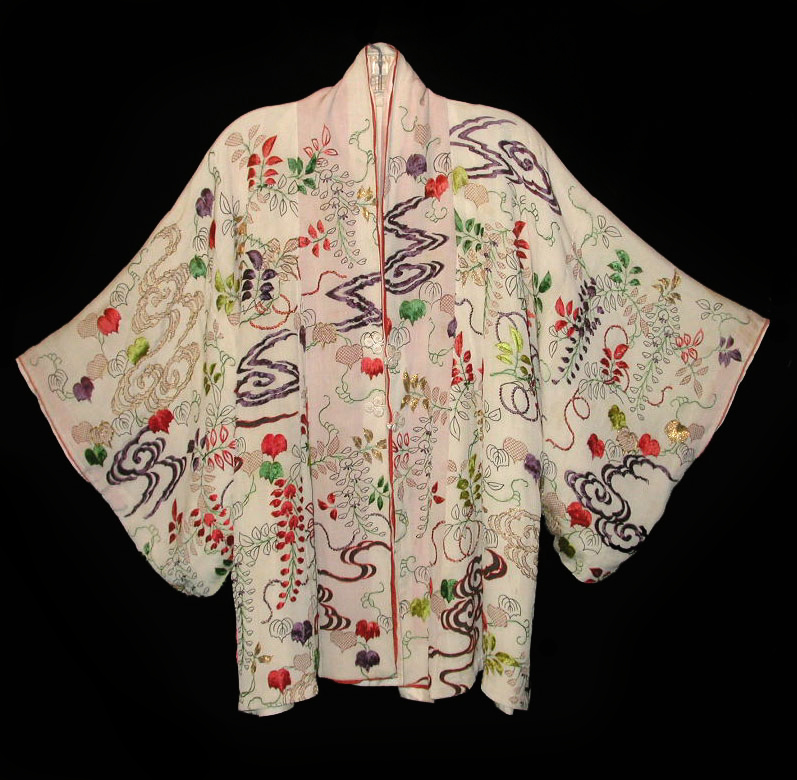 The Fabric is a Light weight crinkle effect Crepe with a Full Lining of ivory Silk.
This is a very Unusual Garment!
The oversized Kimono Collar has Several Layers, under the Embroidered outer layer
is a Coral Silk Layer, then a plain Ivory Silk Layer.
The Sleeve Hems are also done to look like layers.
There are Front Chinese Frogs for closure, probably added later.
The Elaborate Overall Embroidered Design is Accented with Gold Metal Cording.
Measurements are EXACT taken closed:
Body: 54"
Hem: 57"
Length: 30"
Sleeve Length: 21" from collar seam
Sleeve Drop: 17"
EXCELLENT OVERALL CONDITION!
Only Slight overall aging, as would be expected on a garment this age, there are areas of pale yellow on the lining.
Generally the embroidery has Very Slight surface wear, the coral faux lining has faded somewhat.
One Sleeve edge has Beige Area. No Repairs or Mends, No stains other than mentioned.
Light fade on the Darker colors, but still very Strong.